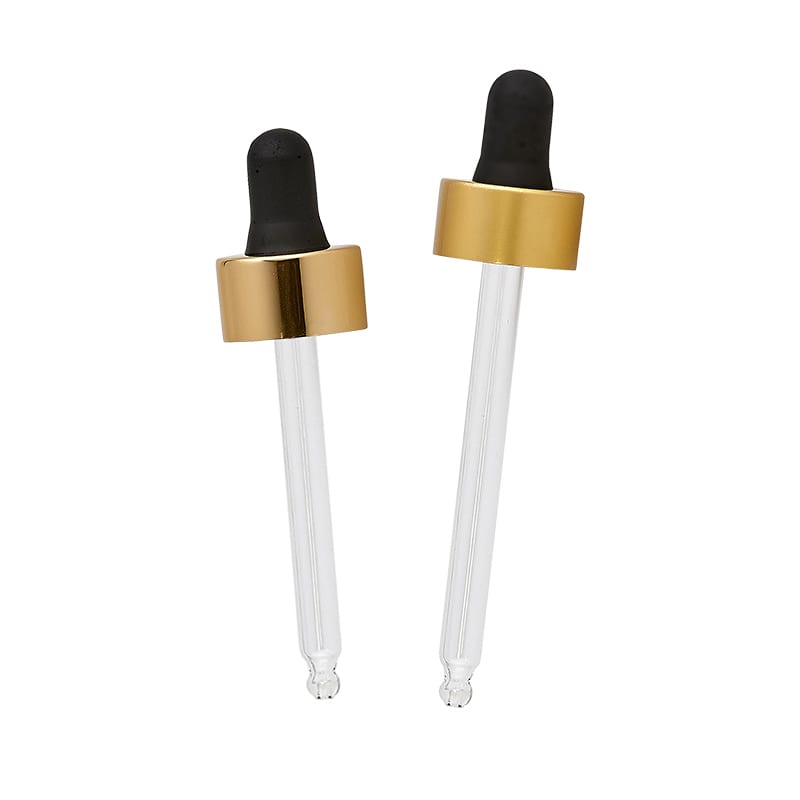 MATCH OUR SHAM GLASS BOTTLES
SHAM gold aluminum shelled droppers match our SHAM 30ml/60ml amber glass. The dropper for 30ml has a shiny gold collar while the 60ml has the matte gold collar.
Note: Due to some remaining previous in-stock, this product might come with a slanted tip on the pipette, please let your sales representative know if you absolutely need a straight tip.
Minimum Order Quantity (MOQ):
30ML: 648/Case
Note: $500.00 minimum spend per order.
---
Overview

Type

variation

Parent Reference - Main

O_SHAM030_ALUDR

Packaging Type
Dispensing Closures
Packaging Sub-Type
Bulbs, Pipettes, Droppers
Market - Segment
Personal Care
Market - End Use
Skin Care
Geographic Availability
USA
Characteristics

Materials
Plastic - PP. Glass. Metal - Aluminium
Volume

Volume - Nominal

30 ml

Volume Notes
Neck

Neck Diameter

20 mm

Neck Threads
410
Neck Finish

20/410
Manufacturing

Manufacturing/Mould Locations

China
Logistics

Delivery Time
In Stock, Available Now
MOQ (Minimum Order Quantity)

648

Items per Case

648
Michael Foster
Product
English
Created 23 Jun 2022
Modified 13 Mar 2023
Hits 291