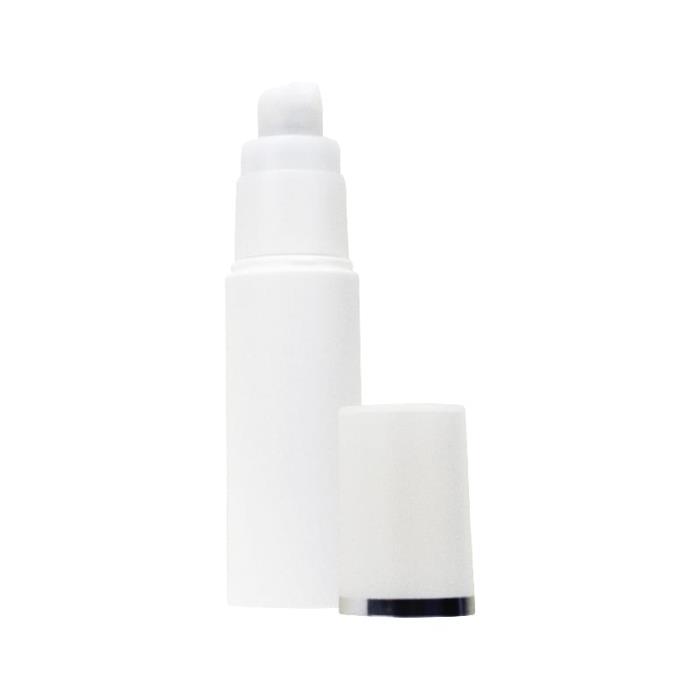 WHITE BOTTLE & CAP WITH A WHITE CAP ACCENTUATED WITH SILVER TRIM
These bottles not only provide a clean look for your product but are also the perfect canvas for your decoration. Choose from an all-white cap or give your packaging some flair with a white cap accentuated with silver trim. Bottle can be fully recycled.
Minimum Order Quantity (MOQ):1000/Case
Note: $500.00 minimum spend per order.
---
Overview

Type

variation

Parent Reference - Main

O_XKP030_SS

Packaging Type
Airless Packs. Bottles
Packaging Sub-Type
Airless Bottles. Bottles - Plastic. Bottles - Pump
Market - Major
Beauty, Personal Care
Market - Segment
Personal Care
Market - End Use
Skin Care
Geographic Availability
USA
Characteristics

Materials
Plastic - PP
Shape - General
Cylindrical
Shape - Top Down
Cross Section Circular
Volume

Volume - Nominal

30 ml

Volume Notes
Dimensions

Height

120 mm

Diameter

28 mm
Dispensing

Dispensing/Dosing Volume

.23 ml

Dispensing/Dosing Tolerance

0.02

Dispensing/Dosing Notes
Manufacturing

Manufacturing/Mould Locations

China
Logistics

MOQ (Minimum Order Quantity)

1,000

MOQ (Minimum Order Quantity) Notes

Note: $500.00 minimum spend per order.

Items per Case

1,000
Erin Gallagher
Product
English
Created 23 Jun 2022
Modified 13 Mar 2023
Hits 278